21 Sep 2021
Hubble Space Telescope Finds Mysterious "Cross" At the Center of a Galaxy
Source: Hubble Finds Mysterious "Cross" At the Center of a Galaxy — Curiosmos
The Hubble Space Telescope photographed an image of a mysterious "X" Structure at the very core of the Whirlpool Galaxy (M51).
This stunning image, snapped using the Wide Field Planetary Camera on NASA's Hubble Space Telescope, shows a striking, mysterious dark "X" silhouetted across a galaxy's nucleus.
The galaxy in question, M51, is home to the mysterious cross structure at its very core.
But fear not, it's not a sign of the end of times, nor is aliens. According to the Hubble Site, the strange 'X' is actually there due to the absorption by dust and marks the exact position of a black hole, which may have a mass equivalent to one million stars like the sun.
M 51, also known as the Whirlpool Galaxy, is an interacting grand-design spiral galaxy with a Seyfert 2 active galactic nucleus.
Located in the constellation Canes Venatici, it was the first galaxy classified by astronomers as a spiral galaxy.
With an estimated distance between 15 and 35 million light-years, the Whirlpool Galaxy images are perhaps among the most famous photographs on the internet.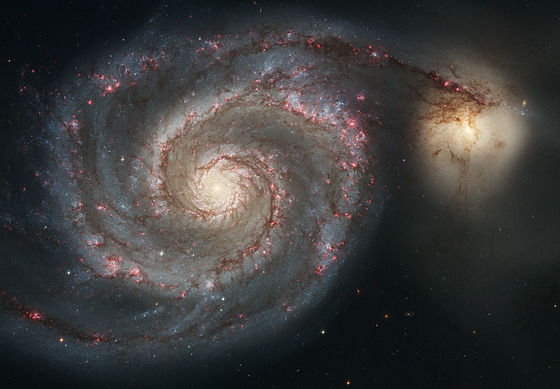 There, at the galaxies core, the Hubble space telescope spotted the weird structure.
According to astronomers, the darkest bar visible in the image is most likely an edge-on dust ring, 100 light-years in diameter.
The edge-on torus hides the black hole and accretion disk from being viewed directly from the earth, dictates the axis of a high-speed plasma jet, and confines radiation from the accretion disk to a pair of oppositely directed cones of light, which ionize gas caught in their beam.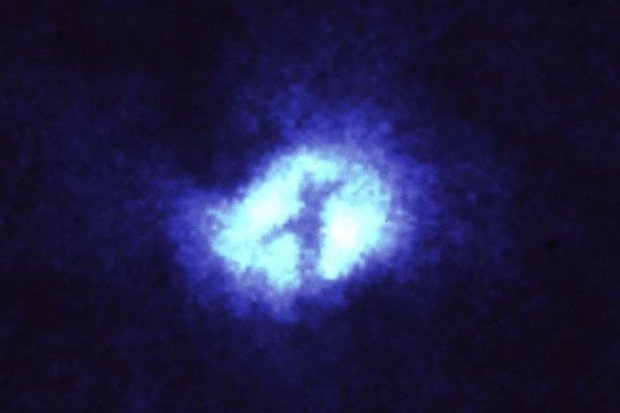 As explained by Hubble Site, the second bar of the "X" could mark a second disk seen edge-on, or possibly rotating gas and dust in MS1 intersecting with the jets and ionization cones.
The discovery of the odd structure was reported by Dr. Holland Ford (Johns Hopkins University and Space Telescope Science Institute) and his Faint Object Spectrograph Team co-investigators at the 180th meeting of the American Astronomical Society in Columbus, Ohio.
"Pictures of M5l taken with the [Hubble] Planetary Camera show a striking, dark "X" silhouetted across the nucleus. The "X" is due to absorption by dust and marks the exact position of the nuclear black hole," explains Dr. Ford.
"If these ideas are correct, M51 provides the first direct view of a torus [ring], which both fuels a massive black hole and hides the hole from direct view from anyone outside the ionization cone [narrow cone of light emitted from the near vicinity of the black hole].